Effective verruca treatment from Swift
Finally, a solution you can rely on
More than 70000+ treatments worldwide
More than 15000+ UK patients
Available at 400+ clinics
Patient feedback 95% satisfaction
Verrucas are difficult to treat, persistent, and unsightly. Some can persevere for years, growing deeper and impacting more and more on daily activities. Around 10% of the population have a verruca. Most people have tried some form of treatment… but it hasn't worked. The good news? Swift is a scientifically proven solution that attacks the verruca virus at its heart.
Thousands of people all over the UK (and the world) have had their verrucas treated and cured with Swift. But it's the people who have suffered for decades that have been cured in just a handful of treatment sessions that make this treatment so remarkable. So many people have given up on treatments for stubborn verruca - Swift offers those patients renewed hope, and for almost 80% of patients, complete freedom from the condition.
Will it work for me?
An independent UK clinical study analysed the worst cases of verruca across the country, and 76% of patients saw complete resolution in an average of 3 treatments. Patients also reported significant reductions in pain after each treatment.
Where can I get Swift verruca treatment?
Simply find your nearest clinic using our locator and arrange an appointment with a certified podiatrist. The clinic will carry out an initial consultation, and if they are confident Swift verruca treatment is suitable for you, they will arrange your first treatment.
On average, patients require 3 swift verruca treatments, usually fifteen minute appointments, over an 8 week period. Your clinician will be able to provide further advice based on the specifics of your condition.
How does Swift verruca treatment work?
Watch the video below to see how the Swift treatment works
How much does Swift verruca treatment cost?
Each patient will receive advice on the necessary course of Swift verruca treatment based on their individual case. Please note that pricing varies between clinics depending on location.
On average across the UK, a single appointment for Swift is £100, with some clinics providing a package of 3 treatments. Please use our clinic locator to find your nearest clinic to enquire about more specific treatment costs.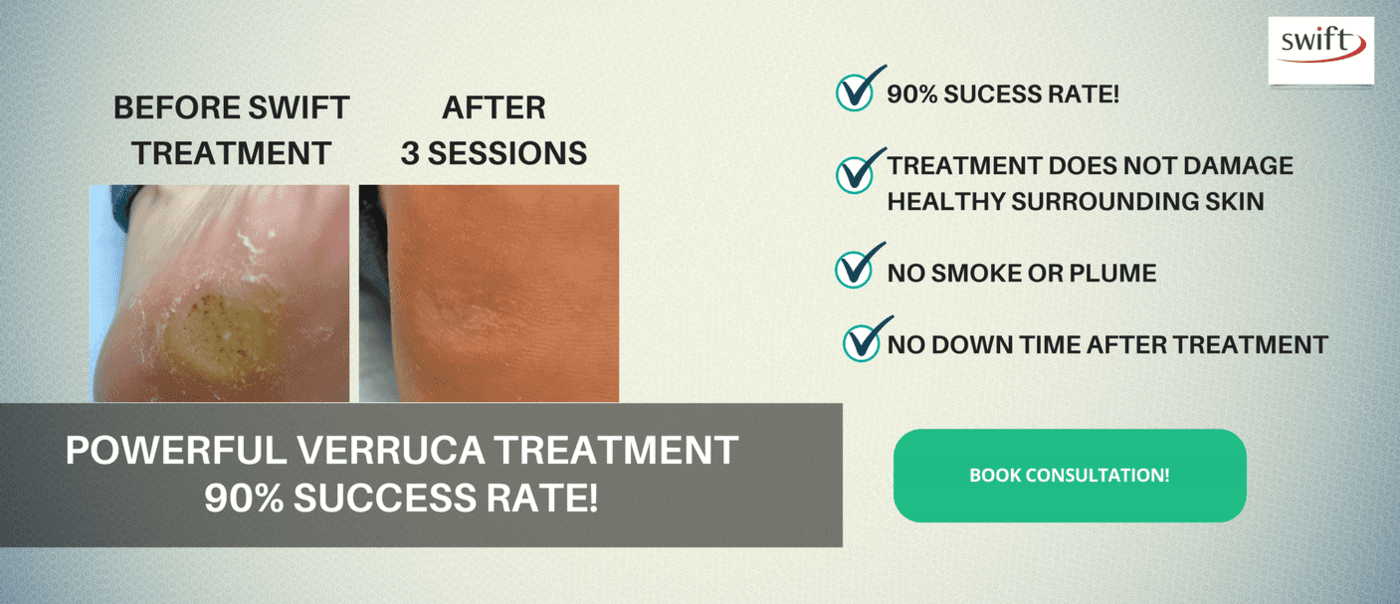 Before and after Swift treatment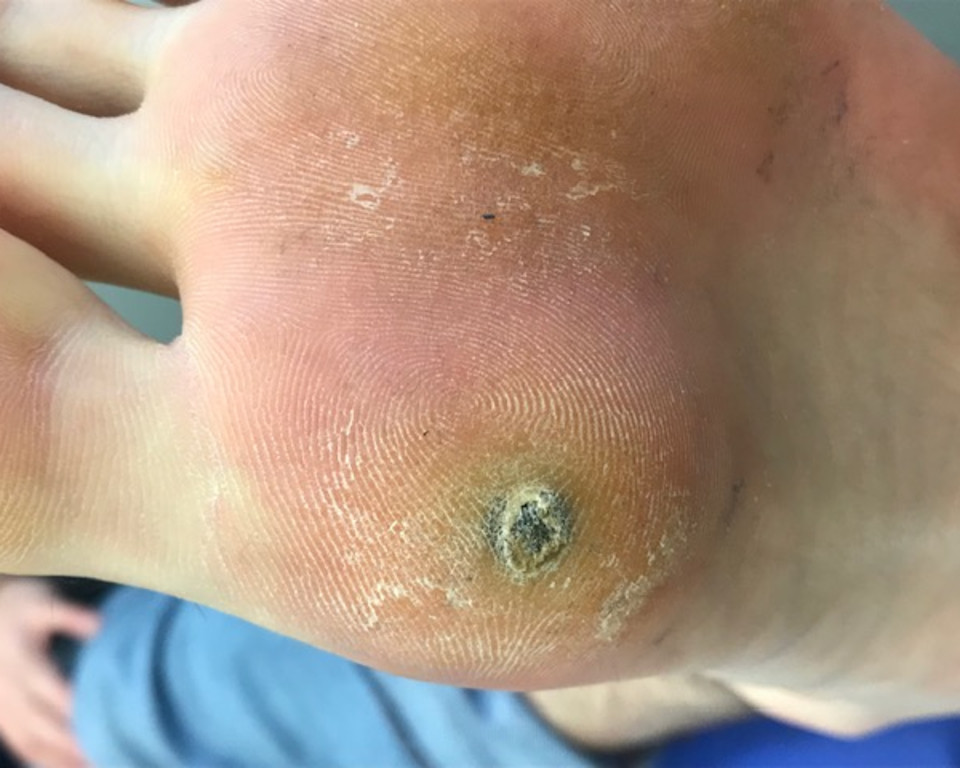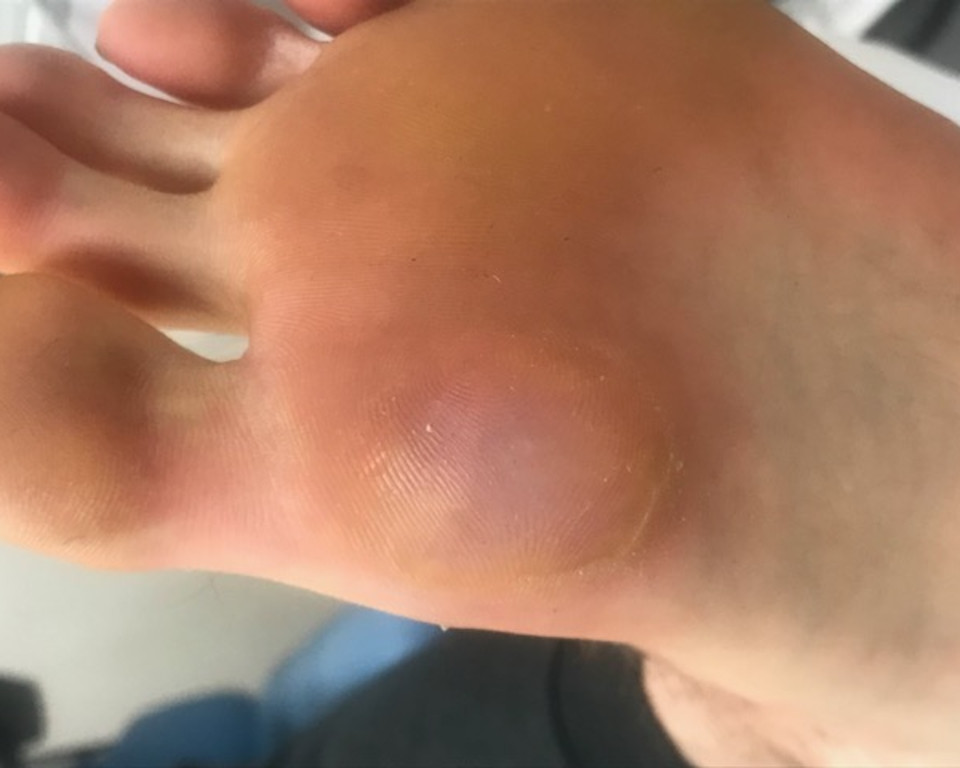 What is it?
Cryotherapy is a safe treatment process where we destroy the skin around the verruca in a controlled environment by freezing it using cold gas. The treatment provides a short, sharp shock to the skin cells around the verruca, which destroys the verruca tissue. It is a quick process so the cells have no time to react to being frozen. It is a very straightforward procedure that causes minimum disruption to patients, although it can take several treatments before the verruca is finally eradicated. The idea is that the treatment will rupture the cells, releasing the virus into the blood stream so the patient's immune system can then fight off the skin infection.
We do not offer cryotherapy to children under 11 years.
What happens during treatment?
All calluses and dead skin surrounding the verruca will be prepared and removed. The freezing treatment will be applied, usually lasting a few minutes with multiple cycles of application and rest. The area will be covered with a small plaster to keep on for the first day. Sessions can take between 5 and 15 minutes, and large warts may need to be frozen over a few sessions before they clear up.
Will it hurt?
Patients may find a blister develops between 24 to 48 hours after the initial freezing, followed by a scab which drops off between 7 and 10 days after that. If patients experience any pain or discomfort, they are advised to take an over the counter painkiller. Some patients might find it more comfortable applying a plaster on the verruca to protect it.
Some patients may find the lesion bleeds under the skin and forms a blood blister. While this may look alarming, the skin needs to blister to help destroy the verruca so should not cause too much concern. If you have any worries before your next cryotherapy appointment, get in touch and we can discuss your progress.
What is it?
One of the verruca treatments we use is acid paste with 60% salicylic acid. It is suitable for use on children under 11 years and is an affordable, accessible, and safe treatment option for getting rid of verrucas as it has very few side effects.
Salicylic acid is the active ingredient in a lot of over the counter verruca treatments such as creams and gels, and is as effective as cryotherapy for treating warts. This acid peels the skin away in layers which removes the wart over time. It also irritates the wart area, which encourages the immune system to respond to the virus.
Applying acid paste
Use an emery board or pumice stone to file the verruca down a little before applying acid paste to the area. While you are treating your verruca with this method, you should repeat this filing down process once a week. It is important to protect the skin surrounding the verruca before applying the treatment as salicylic acid (and other wart treatments) also destroy healthy skin. We recommend using petroleum jelly or a corn plaster to cover and protect the skin around the verruca.
Just before you apply the acid paste, soak your verruca in water for around 5 minutes to soften the area. Depending on the size of the verruca and the way it reacts to the treatment, you may need to apply acid paste every day for 12 weeks or longer.
What is Verrutop?
Verrutop is a new form of verruca treatment in the UK and is a Class 2A Healthcare Product, meaning it should only be used by a qualified medical professional. It is a topical solution based on a unique combination of three organic acids, lactic, acetic, and oxalic, which are combined with copper and zinc salts plus nitric acid to produce "Nitric Zinc Complex".
How does it work?
The "Nitric Zinc Complex" triggers and accelerates two keys processes: desiccation and denaturation. Verrutop is not a caustic agent, so instead its combination acts together to produce nitrites, which denature viral proteins and desiccate the verruca, leaving intact epithelium behind as if the verruca had not been there.
Verrutop treatment is applied to the patient's verruca through a small capillary tube, and the surface of the verruca is covered in the solution. You may find the verruca changes colour and appears a white and/or yellow colour. Patients are advised to apply surgical spirit to the verruca twice a day between treatments to assist the desiccation process. This process will be repeated every two weeks up to a maximum of six sessions.
Is treatment painful?
Verrutop treatment for the majority of patients is painless, although some people experience a slight tingling or burning sensation. If this is the case, it is short term.
Who is suitable for treatment?
Verrutop is a safe topical treatment in most cases, but Verrutop should not be used on:
Healthy skin
Tumours, keloids or flat warts
Children under the age of 6
Women who are pregnant or breast feeding
Patients with impaired circulation or sensation
Patients already using other topical treatments
Patients already undergoing other skin treatments, eg. skin cancer
What is Verrucae Needling?
Falknor's needling uses an empty sterile needle to puncture and break down the verruca. This causes a little bleeding, which activates your body's immune system response. Once the immune system becomes aware of the virus, it starts the process of self-healing, destroying the diseased cells.
The procedure
The procedure involves three stages:
1. Firstly, we give you local anaesthesia to make your verruca and surrounding area are numb before the procedure.
2. Once the area to be treated is completely numb, we proceed to repeatedly puncture the verruca with a hypodermic needle. This pushes the virus into the deeper layers of skin so that your body's immune system can come into contact with it and start the self-healing process.
3. Finally, we apply a dry dressing to cover the small wound. This must be kept dry for at least 24 hours and you should avoid walking or driving while your foot is still under the effect of anaesthesia.
The effects
The anaesthetic will start to wear off in 2 to 3 hours, but do not be concerned if it takes a little longer as the effects vary from person to person.
After 48 hours showering is permitted and life can continue as normal, although you may experience minor soreness for 2 to 3 days post-treatment.
Usually 1-2 treatments are needed to completely eradicate verruca. Most clients don't see a full change in the skin until 16 weeks after the treatment, hence you may not see complete results for 4 months.
It is worth noting that no single treatment for verruca and warts is 100% effective, and there is no guarantee that the verruca will not return.
Before and after verrucae needling treatment