What is Foot Mobilisation Therapy (FMT)?
FMT is a new manual therapy and exercise regime to help improve foot and ankle functionality.
Senior Podiatrist Sangeeta Dhall specialises in Foot Mobilisation Technique and joint pumping techniques based on Osteopathic principles. It has been introduced into the practice and we have had some amazing results.

Foot Mobilisation Technique (FMT) improves the function and alignment of the foot through gentle mobilisation in conjunction with a range of exercises.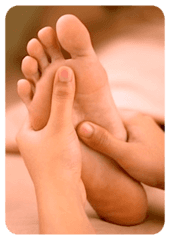 How can it help?
The hands-on treatment to help correct the underlying cause of the problem is tailored to the patient, followed by a range of simple exercises initially undertaken under the supervision of the Podiatrist, that can be continued at home to enable long term relief from foot pain and mobility issues.
The practice of FMT is a specifically developed form of manual therapy aimed at improving your foot and leg functionality. FMT targets joints of your foot and ankle, which may be stiff, poorly aligned or dysfunctional, and aims to restore the way they work gradually. This is achieved via a series of hands-on treatment sessions in conjunction with a specific exercise regime that we prescribe for you.
Used extensively in the areas of Physiotherapy, Chiropractic and Osteopathy, FMT originated from a type of treatment called manipulative therapy.
Foot mobilisation techniques have evolved by combining the podiatric bio-mechanical understanding of foot and leg function with the manual therapeutic experience of physiotherapy and chiropractic.
This is a new therapy within Podiatry and Walkwel is one of only a few clinics that are currently practicing FMT in the UK, and can be undertaken in either our Letchworth or Stevenage Clinic.